PVE Moonlord Build Dragon nest indonesia
guide build moonlord berikut ini saya translate dari MMOsite, karena Dragon nest korea sudah lvl cap 60, sekalian saja skill build untuk lvl cap 60, saya coba translate guide ini sebeisa munkin tapi kalau malas bacanya silahkan di lihat gambarnya saja ga usah baca keteranganya, kalian tidak harus mencontoh 100% build ini karena bisa disesuaikan gaya bermain masing masing.
Kryonos' PVE Moonlord Guide (T4)
 alternatif build
Skill Build D:(fokus serangan magic)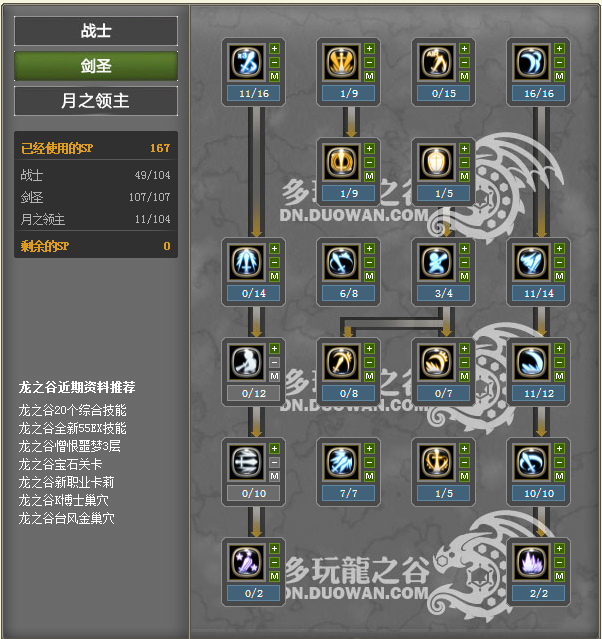 keterangan Build
note:nama skill PVE Moonlord Build Dragon nest indonesia ini mungkin berbeda dengan dragon nest indonesia karena skill buildnya tidak diambil dari dragon nest indonesia
Lv 16 Triple Slash: skill DPS yang bagus dan memiliki knockback rate yang sangat bagus.
Lv 1 Aerial Combo:  aerial counter skill yang cukup baik jika kalian diserang oleh banyak monster kalian bisa mengunakanya dengan meloncat dan klik kiri untuk mengaktifkan nya.
Lv 1 Dash Slash: skill yang sangat bagus untuk memecah kerumunan monster bisa digunakan untuk kombo bersamaan dengan skill Dash Combo atau Moonlight Spiltter EX.  bisa juga digunakan untuk permulaan combo saat pvp
Lv 1 Dash Combo: serangan ekstra kalian bisa menggunakanya saat terjatuh dan membuat muduh mundur/terjatuh dan kalian bisa melerikan diri  dan menyrang di jarak yang aman.
Lv 6 Eclispe: serangan area 360 derajat menyrang semua monster yang ada di sekitarmu.skill ini juga mengurangi  super armor attack rate mereka sebanyak 30%, skill ini juga sangat bagus di grup pvp atau 1 vs 1 pvp.
Lv 7 Luring Strike/Heavy Hammer: skil yang sangat bagus "increase damage of magic and physical moves by 45% at Lv 7!!!!" skil wajib untuk Moonlord 🙂
Lv 1 Aerial Exile:
Lv 1 Parry: basic skill block warriorbasic warrior namun hanya 3% . skill ini bisa menyelamatkan kalian di situasi yang berbahaya.
Lv 2 Parry Stance: 100% Parry Rate dalam 12 detik …skill wajib  Moonlord , tanpa skill ini para Moonlord  harus memiliki skill menghindar yang bagus.
Lv 16 Moonlight Splitter: maksimalkan . jarak serangan area (aoe) yang cukup jauh setelah mendapatkan skill EX.
Lv 1 Cyclone Slash: skill untuk mengontrol kerumunan mosnter.
Lv 11 Crescent Cleave: EPIC AOE AND EPIC DAMAGE. skill yang sangat mematikan untuk boss dan sangat bagus untuk monster biasa.
Lv 10 Half Moon Slash: setelah T4 cooldown skill berkurang cukup banyak dan skill ini menjadi sangat bagus dan memiliki DPS yang cukup tinggi.
Lv 1 Great Wave(Blade Storm): ultimate yang cukup bagus untuk membersihkan kerumunan monster.
Lv 2 Infinity Edge: skill ultimate 1 vs 1 yang bagus , sangat bagus untuk  boss yang tidak terlalu bergerak
Lv 6 Moon Blade Dance: skill DPS yang sangat bagus.
Moon Splitter EX: menambah ukuran dan serangan
Cyclone Slash EX: skill yang sangat bagus untuk pvp dan pve memilikin kemampuan suction.
Counterwave and Counterslash: skill pvp
PVE Moonlord Build Dragon nest indonesia Equipment
equip  Lv 24: B-Rank, A-Rank, or Minotaur Set
equip   lv 32: B-Rank, A-Rank, or Cerberus Set
equip  Lv 40: B-Rank, A-rank, Manticore, or Apo
Optional: SeaDragon S or L for Raw Magic damage
equip  Lv 50: B-Rank, A-Rank, Totem, Immortal, Mixture of totem and Immortal*final damage*, Optional: Greendragon S or L for Raw Magic damage
equip   Lv 60: B-Rank, A-Rank, Honorable Tribe, or Great Ancestor
Suffixes:
Int Crafted: baju , celana, sepatu, dan/atau  senjata
Magic Crafted: senjata
Agi Crafted: helm dan/atau sepatu
Life Crafted: Gloves
Will(menambahSuper Armor) Craft(Optional): Gloves
Adorned Crafted: Sub Weapon
Accessories Builds
Necklaces dan Earrings:
INT AGI HP, INT and HP, atau INT
Rings:
-Magic damage, Physical damage, AGI, INT, CRIT%
PVE Moonlord Build Dragon nest Final Damage Build:
50 atau 60 A Ladder Weapons! (GreatSword and Gaunlet)
3 parts of Immortal set! (I suggest helmet, gloves, and boots)
2 parts of 50S Brave or GDN, 2 Parts of 40L or 50L, or 2 Parts of Totem set.(For HP)
Apo Accessories Revy and Justice (244 fd in total) or the new lv 60A FD accesories
FD Cash Shop set (100 Final Damage) Applies to CDN only
FD Cash Shop Accessory Set(40 FD) Applies to CDN only
Final Damage Plate LV 50 (170 FD) or LV 60 (256FD)
FD Title (30 FD) or (7% FD Title)
sekian PVE Moonlord Build Dragon nest indonesia , maaf sebelumnya kalau guidenya ada sedikit bahasa inggris:) sumber : PVE Moonlord Build Dragon nest indonesia
Related Posts to "PVE Moonlord Build Dragon nest indonesia"
Response on "PVE Moonlord Build Dragon nest indonesia"